The focus of HuBMAP is understanding the intrinsic intra-, inter-, and extra- cellular biomolecular distribution in human tissue. HuBMAP will focus on fresh, fixed, or frozen healthy human tissue using in situ and dissociative techniques that have high-spatial resolution.
The HubMAP Data Portal aims to be an open map of the human body at the cellular level. These tools and maps are openly available, to accelerate understanding of the relationships between cell and tissue organization and function and human health.
Join our mailing list to get updated on HuBMAP news, including future data releases and updates to the Data Portal.
Researchers from HuBMAP Tissue Mapping Centers collected, processed and contributed tissue samples to the data portal.
Click on one of the circles to be taken to the data portal to see the datasets contributed by that group for that organ.
Expand the row for any organ to see all the assays performed on those tissues, and links to those datasets in the data portal.
HuBMAP-developed tools Vitessce, the Common Coordinate Framework, and Azimuth allow visual exploration of HuBMAP tissues and cells. You can also search the data in the Data Portal directly, and download data for your use.
Vitessce enables the exploration of spatially-resolved, integrated single-cell datasets. An interactive visualization tool, Vitessce is available for datasets that have been processed through HuBMAP HIVE computing hardware and pipelines.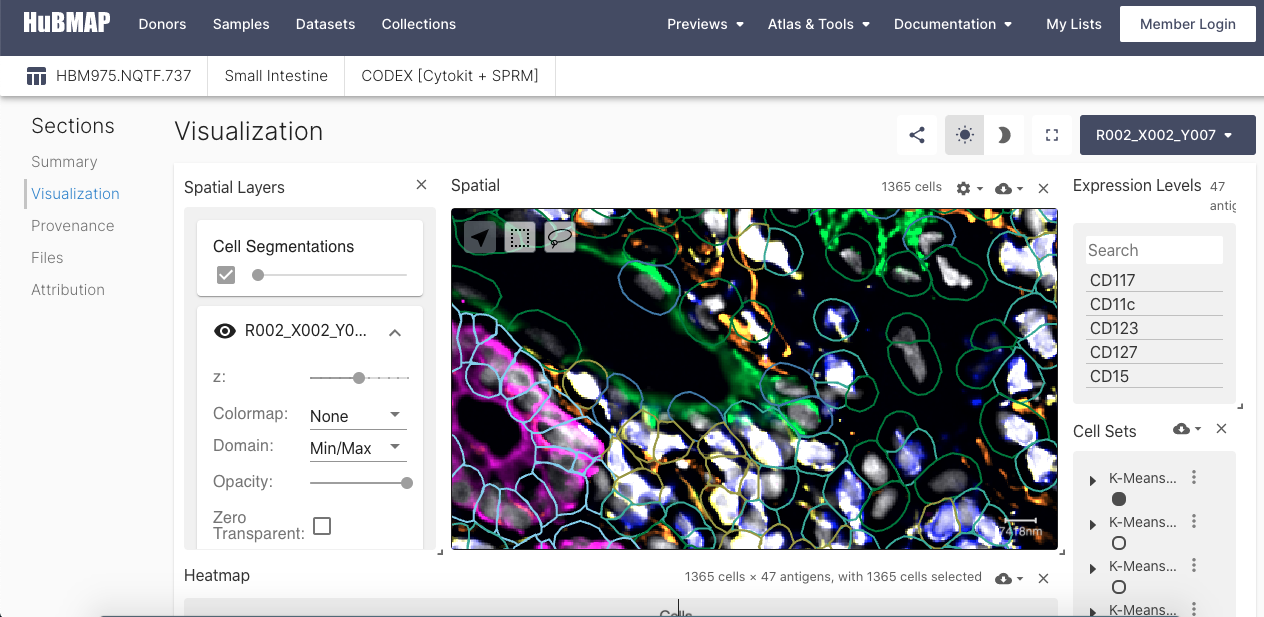 The HuBMAP Mapping effort is developing a Common Coordinate Framework (CCF) for the healthy human body. This framework will support cataloging different types of individual cells, understanding the functions of and relationships between those cell types, and modeling their individual and collective function.
Elements of the CCF already in use include the ASCT+B Reporter, the Exploration User Interface, and the Registration User Interface.
Azimuth is a web application that uses an annotated reference dataset to automate the processing, analysis, and interpretation of a new single-cell RNA-seq experiment. Azimuth leverages a 'reference-based mapping' pipeline that inputs a counts matrix of gene expression in single cells, and performs normalization, visualization, cell annotation, and differential expression (biomarker discovery). All results can be explored within the app, and easily downloaded for additional downstream analysis.